Entertainment
Cancel Your Plans Next Month Because 'Rick And Morty' Is Returning For More Misadventures
Everybody stay calm, because 'Rick and Morty' is finally returning with its 4th season. The good news is we've got the date on which we can just cancel all our plans on that day. The bad news?
This season has only 5 episodes out on that date.
'Rick and Morty' has been silent for 2 years and fans naturally expect that the new season will have the usual 10 or 11 episodes. Aren't we all gutted to know this? Yet, 'Rick and Morty' admits it's 'half of the season we deserve, all the season they can handle.'
There are more good things we can expect, like it's airing on November 10th and there's a familiar beloved face returning to the screen.
Speaking on the super long waiting time, creators Dan Harmon and Justin Roiland spoke to EW about this, "I think it's safe to say without fear of being wrong that the gap between seasons 3 and 4 will be the longest and last time that it's ever so long that it's ridiculous. I don't know how fast we can do it, but I know it will never be this long again.
"There were so many things that had to be settled before we even started season 4, and it's really safe to say — as Justin says — we're literally writing season 5 while finishing season 4 just to force ourselves to commit to a certain schedule," they added.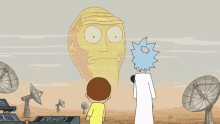 We know they are committing to a season 5 that won't be 2 years away. But now, to prepare for the worse and stretching 5 episodes through 2 years…